Why do we need a new conservation strategy?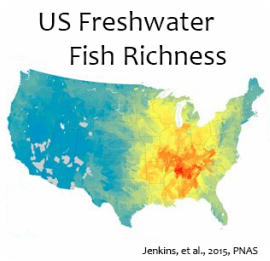 The Southeastern United States is a global hotspot of freshwater biodiversity, supporting almost two-thirds of the country's fish species, over 90% of the US total species of mussels and nearly half of the global total for crayfish species. More than a quarter of this region's species are found nowhere else in the world. Unfortunately, this region is also a hotspot for imperilment. The number of imperiled freshwater fish species in the Southeast has risen 125% in the past 20 years, in part because recent intensive human development of this region is coupled with a low priority for conservation. Scientific research has extensively documented the causes of species imperilment, yet efforts to reverse these trends have been hampered by limited funding and lack of public awareness.
What is this project doing?
This project was originally conceived as a synthesis of state wildlife action plans and other existing conservation plans for the region (of which there are many). However, after consultation with more than two dozen southeastern academic and agency biologists, we determined that it was possible and desirable to perform an independent data-driven analysis to rank watersheds based on aquatic biodiversity, southeastern endemism, and imperilment. We will assemble species distribution maps and review existing conservation plans for Alabama, Georgia, Mississippi, North Carolina, South Carolina, Tennessee and parts of Louisiana, Kentucky, and Virginia. Our intention is not repeat the planning process for these areas but to integrate the recommendations from existing basin- or state-level efforts into a coordinated set of regional conservation priorities. This project's outcomes include a Southeastern Aquatic Biodiversity Conservation Strategy, a synthesis that identifies management actions and policy recommendations for areas with high capacities where additional monies can be leveraged quickly as well as areas with higher needs and lower capacity where a longer-term strategy is necessary.
Who is involved?
Staff from
The River Basin Center
in the
Odum School of Ecology at UGA
and
The Tennessee Aquarium Conservation Institute
are performing the analyses and developing the strategy in consultation with representatives of state, federal, and non-profit agencies from across the Southeast.